Ultimate Dog Friendly Traverse City Weekend Getaway
In this guide, I'm sharing the best dog friendly Traverse City weekend getaway itinerary to help you plan an awesome weekend with your dog in Northern Michigan!
This page may contain affiliate links, which means I'll receive a commission if you purchase through my links, at no extra cost to you. Please read our full disclosure for more information.
---
About Traverse City
Traverse City, Michigan is one of our favorite northern Michigan destinations. Known as the "Cherry Capital of the World", Traverse City and the surrounding areas produce about two hundred fifty million pounds of tart cherries every year! They are very proud of this, so be prepared to see lots of cherry-themed stores, items, and food. If you want the ultimate Traverse City cherry vacation, make sure to visit during the annual Cherry Festival over the Fourth of July.
I grew up spending weekends in the summer at the beach, at the cherry festival, and the occasional trip in the Fall to drive M-22 to see the beautiful Fall foliage.
When we got our dog, Kirby, we decided to take him to Traverse City for his first trip. This was mainly because I knew my way around TC so well that the idea of introducing our dog to travel there would be easier and more manageable than if we were to go somewhere completely new to us.
I'm so glad we did because Kirby had an absolute blast in Traverse City. Also, taking him around to all the dog friendly places made us fall in love with the city even more.
---
When To Go
Traverse City is one of those places that you can really enjoy year-round, but it is definitely a hot destination in the summer.
WINTER: There are plenty of things to do in TC in the winter if winter sports and outdoor winter activities is your thing. I wouldn't recommend going in the Winter with your dog though.
SPRING: You'll still most likely see snow in March and April and there will not be much going on. May is a better month to go if you don't plan on swimming or laying out at the beach. It will still be fairly chilly with no cherries ripe yet, but fewer crowds and cheaper accommodations.
SUMMER: Booking accommodations for June, July, or August will need to be done well in advance.
JUNE: Crowds start to pick up in June and you'll enjoy warmer weather. Depending on how that year's weather cooperates, you might be able to get your hands on fresh cherries.
JULY: July is the peak season for Traverse City. The Cherry Festival is over the Fourth of July and is a blast to experience at least once. Expect large crowds and expensive hotels!
AUGUST: August is a great time to visit Traverse City since you'll get the warmer weather and the fresh cherries still, but without the crowds of the Cherry Festival.
BEST TIME TO GO WITH YOUR DOG: Personally, I would say the best time to go with your dog would be the week before or the week after the Cherry Festival or in August. For a more laid-back Fall getaway, September through mid-October would also be great.
---
Where To Stay
When it comes to dog friendly lodging, I would first recommend the Traverse City State Park Campground if you enjoy camping.
Because Traverse City is such a popular destination, the hotel prices fluctuate drastically. However, the campground prices do not. So if you book early enough, you could get the same nightly rate at the campground over the fourth of July for the Cherry Festival as you would in June or August. And since dogs stay with you for free, it really is the best dog friendly option.
---
Hotels
I know camping is not for everyone, so you'll be glad to know there are a handful of good dog friendly hotels to choose from:
3 Star
Located in downtown near Front Street
Pet Policy: Max 2 dogs for an extra charge of $20.00 per pet, per night
Best for location for walking downtown and low fee!
2,5 Star
Free breakfast, free parking, 5 minute drive to downtown
Pet Policy: 2 dogs max, $20.00 per pet, per night
Best for budget! I've personally stayed here several times. Great if you have a car and don't mind parking downtown.
---
Vacation Rentals
You can also find a ton of different vacation rentals as well that are dog friendly on Vrbo here.
Here are two that are highly rated and look awesome: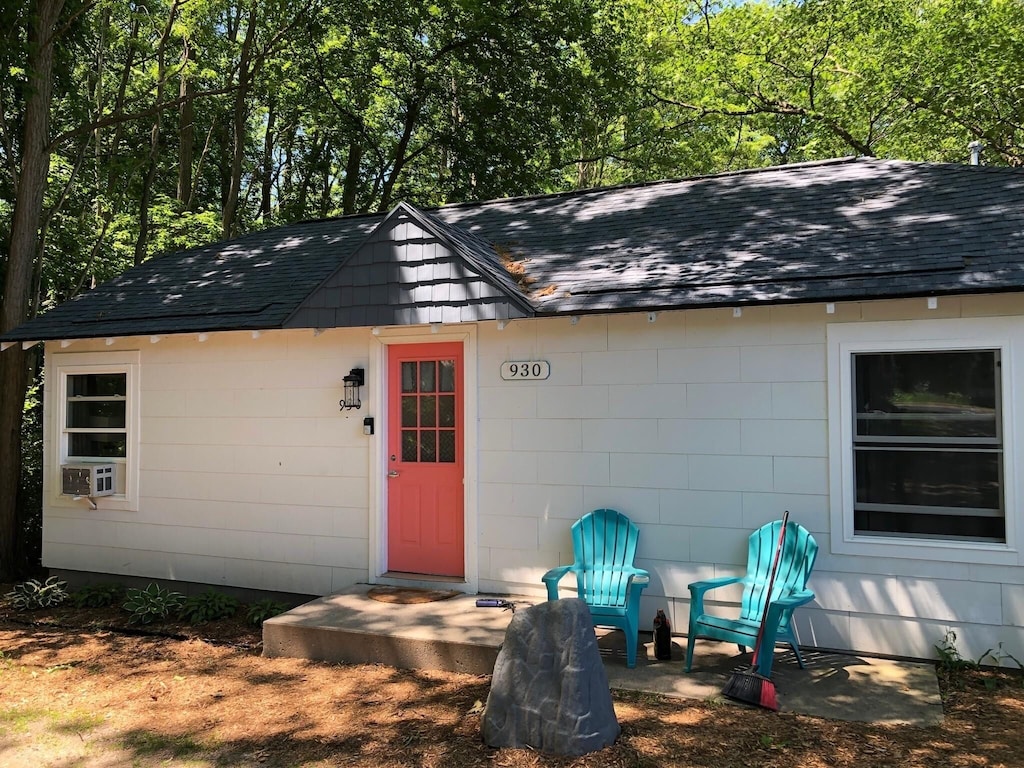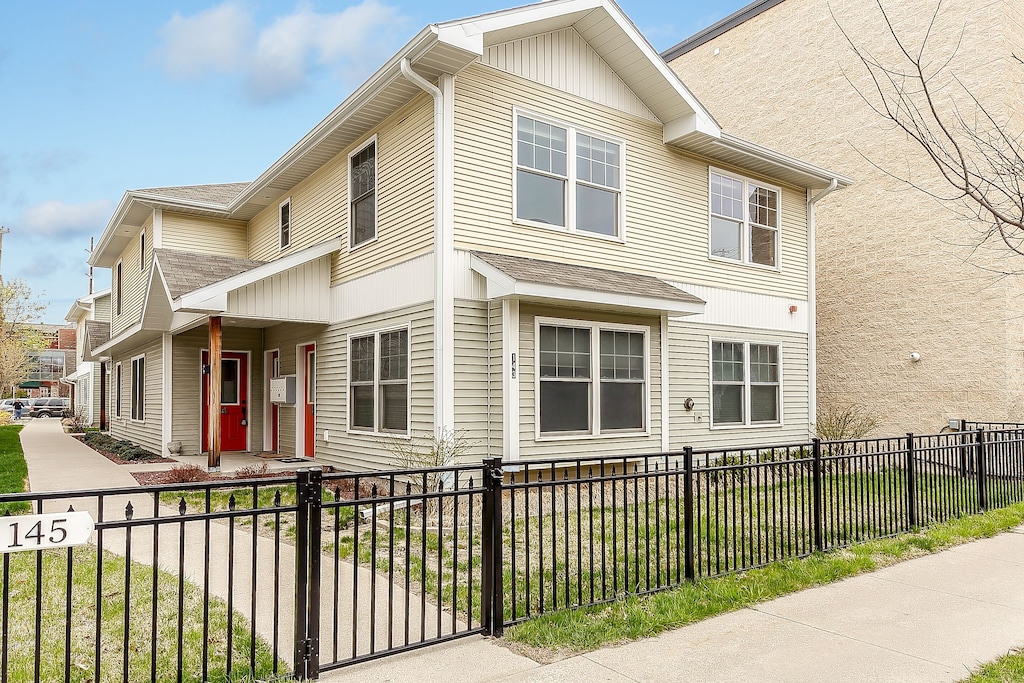 ---
Weekend Itinerary
Friday
---
Arrive and check into your hotel or set up your campsite.
Walk down the pier at Open Space Park and enjoy the sunset.
Head over to The Filling Station for pizza and beer under the covered patio at the renovated train depot.
---
---
Saturday
---
Get started with your free hotel breakfast or head over downtown to the Omelette Shoppe and snag one of the few outdoor tables. Order the

"Leelanau Scramble

" and enjoy it with freshly squeezed orange juice.
Browse the shops just opening up downtown on Front Street. Your dog will be welcome at the following stores:

Back Country North
Diversions
M-22 Store
Higher Art Gallery
Haystacks

Make sure to stop into Brew and order an

Iced Mocha

before heading back to your hotel and getting ready for the beach!
With your beach gear (and dog beach gear!), drive up Old Mission Peninsula and stop by Bad Dog Deli for some sandwiches to go.
Continue driving up Old Mission Peninsula, stopping at any fresh fruit stands you see, (get yourself a cup of cherries!) and until you reach Mission Point Lighthouse Park.
Grab your dog, gear, and sandwiches and make your way down the steps to the beach. Walk along the shore until you find yourself a spot to lay down your beach towel and claim your area for the next few hours as your dog and you enjoy the fresh bay water.
Once the afternoon sun has started to fade and your dog is now tired, make your way to one of the beautiful dog friendly vineyards on Old Mission before they close at 5 pm.

Mari Vineyards
Bonobo Vineyard
Chateau Grand Traverse
Bowers Harbor Vineyard

Grab a late-night dinner at The Shed Beer Garden (get your pup something from their doggy menu!) or spend a lively evening on the patio of the Coin Slot.
Get plenty of rest and let your dog sleep in the next morning!
---
---
Sunday
---
Start your day again with free breakfast or make your way to Red Spire Brunch House at the Grand Traverse Village Commons. Enjoy a decadent stack of

Nutella Stuffed Banana Bread French Toast

before spending your morning browsing the shops at the Mercato with your dog.
If shopping doesn't interest you and the weather is nice, head outside and explore the grounds of the historic complex that was once the Traverse City State Hospital and Asylum.
Head over to Building 50 and check out the "Front Lawn", "Backyard" and grab a trail map. Pick one of the many trails on the property and head into the woods with your dog! Make sure your dog is outfitted properly for hiking.
After your hike, head over to Higher Grounds Coffee and enjoy an afternoon pick-me-up on their secluded patio or walk over to Left Foot Charley and get a tasting flight of wines and ciders.
Get a late lunch or early dinner at one of the food trucks at Little Fleet before you head home.
Finish off your time in Traverse City with a scoop of ice cream from Milk & Honey or Bardon's Wonder Freeze.
---
---
Important Information
Pet Emergency:
Bay Area Pet Hospital
844 E Front St, Traverse City, MI
Kennels and Daycare:
Sun Dog
9504 East Bingham Rd, Traverse City, MI, 49684
Deerfield Dog Kennel
3435 Beitner Rd, Traverse City, MI, 49685
Wiggle Butts and Waggin Tails
12809 S Bugai Rd Cedar, MI
Dog Park:
Wags West Dog Park
315 N Division St, Traverse City, MI 49684

Dog Grooming:
The Clipper Pet Grooming
441 E Front St, TC
Pet Stores:
DOG Bakery
1117 W South Airport Rd Ste B, Traverse City, MI 49686
Grand Traverse Pet Supply
1185 S Airport Rd, TC.
Pets Naturally
1117 W South Airport Rd, TC
---
I hope you have an amazing time in dog friendly Traverse City! Let me know how your trip went in the comments below. If you want to explore more of Michigan with your dog, check out my Michigan Dog Friendly Travel Guide!